Home
Biography
Tables, Chairs
Cabinet Furniture
Beds, Built-ins, Other Work
Exhibitions, Galleries, News
Articles
Teaching and Student Work
Contact
Richard Jones Furniture

Fettercairn Kirk Chair.


Designer: Liz Jacques, Edinburgh College of Art.
Scottish oak, upholstery and lacquered.

The only image I have of the dozens of pieces of furniture I made for furniture design students during the time I was the furniture technician at the college. The chair was designed as a ceremonial seat for a visiting minister or dignitary for Fettercairn Kirk, Aberdeenshire. Biblical inscriptions are sand-blasted into the wood in strategic places.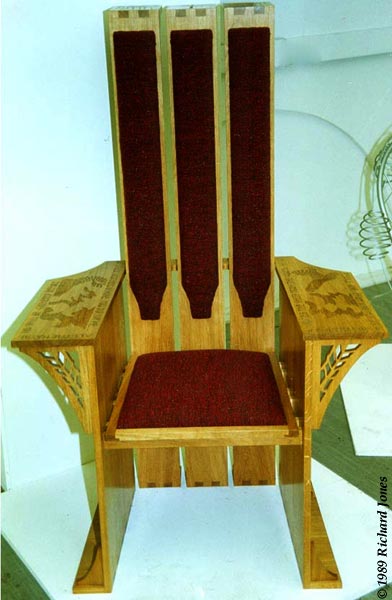 ---
Home
Biography
Tables, Chairs
Cabinet Furniture
Beds, Built-ins, Other Work
Exhibitions, Galleries, News
Articles
Teaching and Student Work
Contact