Home
Biography
Tables, Chairs
Cabinet Furniture
Beds, Built-ins, Other Work
Exhibitions, Galleries, News
Articles
Teaching and Student Work
Contact

Richard Jones Furniture
---
Articles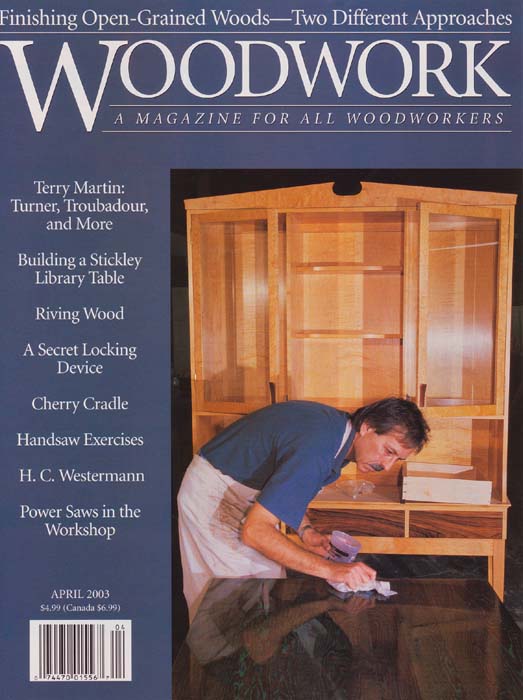 The making of a pedestal leg refectory table.
A photo essay, with some text, illustrating stages in the construction of this oak table.


Roof bevels/ mitres. Drawing method to ascertain hip length, bevel cuts and mitres for hipped roofs and pyramids.

Making Tambours.

A description of manufacturing the tambour for the cabinet Torpedore.



Estimating for Furniture Makers: is the price right? Estimating custom furniture making is a difficult task. I have spent over thirty years refining my system. My 'guess-timating' really started to become effective estimating when I began to base my method on a system outlined in a three page CoSIRA document I acquired, I think, in the early 1980s. Some longer serving furniture professionals who perhaps dimly remember that old CoSIRA document, may recognise its genetic fingerprint buried deep within my methodology described here in this 3.7 MB PDF file.
Associated with this document is this Excel spreadsheet that can be used to calculate your material costs, mark-ups, the time jobs take and what to charge for a job.

'The Gathering, 2009', June 27. Members of the Designer Makers Organisation of the United Kingdom (DMOU) met at ercol furniture's premises in Princes Risborough, Buckinghamshire to listen to guest speakers, network, etc.

Click here for

a report of the event

.



Edge Joints and Appearance Considerations for Solid Wood Panels

. A discussion of edge joinery in solid wood panels taking into account a limited selection of wood movement and appearance considerations.



Microwave Oven Drying of Wood.

Sometimes it is useful to establish very precisely the moisture content in a piece of wood. The oven drying test is the standard by which all other methods of measuring wood moisture content are judged against. This short article describes a method of oven drying using the microwave oven instead of a regular oven.



Flattening Veneers.

Click here for a printable 320 kb PDF document that opens in a new window. Alternatively click here for a low resolution (11 kb) HTML web page. The same information is in each version and describe methods for flattening rippled and contrary veneers prior to cutting and taping edge joints and/or gluing them down onto a prepared ground.



Laminate Springback

. A short and small PDF document, less than 50 kb, providing some formulae I've gathered over the years that attempt to accurately calculate the springback you can or might expect if you do laminated bends in wood. I don't give any of them much credence, but I believe it's useful to be aware of them.

Drying Faults in Pictures. Photographs, and a little text, of some of the common drying faults found in wood and a graphic of the drying stages wood goes through along with the faults that can develop. This graphic is quite large and may take a little while to download for internet users on slower connections, eg, dial up. I apologise in advance for any inconvenience.



Using Drafting Tape to Join Veneer Edges.

Is this a technique you can use? A report on an experiment I conducted using drafting tape and masking tape to join the prepared edges of veneer prior to gluing the veneer down using a heated hydraulic press.

A Lesson in Sharpening. I swear with my hand on Ernest Joyce's holy tome, the 1970 British third edition of

The Technique of Furniture Making,

that every word in this story about my induction into the "Dark Arts" of chisel and plane sharpening is the truth.

An Unusual Polishing Technique for Open Grained Woods. A white oak table top with a blue grey background and green grain filler.

Graduate Drawer Cabinet

hosted by WoodCentral. When I made this cabinet I simply called it cabinet 73-- I hadn't thought of a name for it at the time.

The Double Twisted Dovetail

.

How to mark it and cut it, again hosted by WoodCentral

Ripping long boards on the table saw. Authored by Barb Siddiqui. I was asked to add comments on techniques she discussed. Hosted by WoodCentral.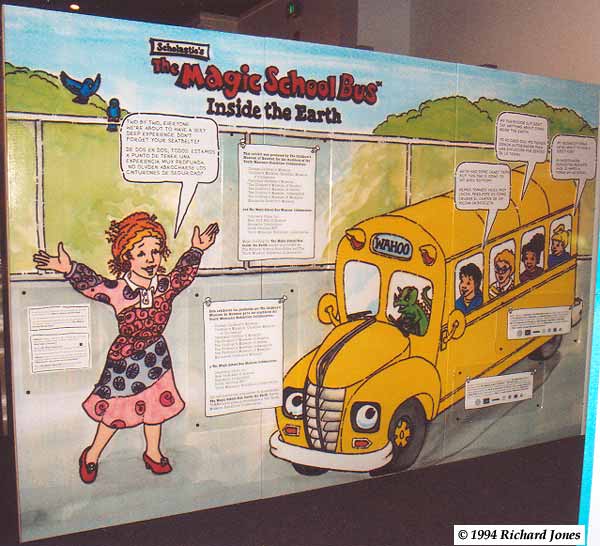 The Magic School Bus: Inside the Earth. Shortly after I moved to Texas in 1993 I was offered the post of Workshop Manager at The Children's Museum of Houston. As a recent immigrant it gave me the chance to find my feet in the city and make connections for the future. My main responsibility during this employment was managing the construction of a matching pair of this travelling exhibition.




---
Journal or Magazine Articles
I have written articles on woodworking subjects for many years. I enjoy writing for its own sake, and I also enjoy photography so it was a natural fit to combine these two interests with my profession as a furniture designer and maker. A further bonus, apart from the small additional income writing generates, is the chance to help other woodworkers develop their knowledge and skills.
2012, Winter edition, Designing a Bed, The Best of Woodwork
2011, Winter edition, Estimating for Furnituremakers: is the price right?, The Best of Woodwork
2009, October, How to Price Your Work for Profit, Furniture & Cabinetmaking, Issue 158
2006, December, Estimating for Furnituremakers. Is the Price Right? Woodwork, Issue 102
2004, August, Air dried vs. kiln dried: Notes from two continents. Woodwork, Issue 88
2004, March, Every rod tells a story, 2, Furniture & Cabinetmaking, Issue 86
2004, February, Every rod tells a story, 1, Furniture & Cabinetmaking, Issue 85
2003, December, A lot of front, Furniture & Cabinetmaking, Issue 83
2003, October, Walnut Whim, Furniture & Cabinetmaking, Issue 81
2003, July, Finishing in a Nutshell, Furniture & Cabinetmaking, Issue 78
2003, June, Oaken Sheen. (Colouring and polishing open grained woods) Furniture & Cabinetmaking, Issue 77
2003, April, Finishing Open Grain: Two Woods, Two Approaches, Woodwork, Issue 80
2003, April, Bedded Bliss, Part 3, Furniture & Cabinetmaking, Issue 75
2003, March, Bedded Bliss, Part 2, Furniture & Cabinetmaking, Issue 74
2003, January l, And so to bed… Part 1. Furniture & Cabinetmaking, Issue 72
2002, December, Building a Bed, Woodwork
2002, October, Designing a Bed, Woodwork
2001, October, Dining Table and Chair, Woodwork
2001, April, A Graceful Chest of Drawers, Woodwork
2000, First of its kind, Furniture & Cabinetmaking, Issue 41
2000, Small-scale dining, Furniture & Cabinetmaking, Issue 40
1999, Made to exhibit, Furniture & Cabinetmaking, Issue 25
1999, Extension Table, Furniture & Cabinetmaking, Issue 24
2000, June, On the edge, The Woodworker
2000, May, Cut and dried?, The Woodworker
2000, January, Mortise and Tenon Primer, The Woodworker
2000, February, Dovetail Primer, The Woodworker
2000, March, Cabinet 73, The Woodworker
2000, February, Cabinet 73, The Woodworker
2000, February, Graceful Hall Table, Woodworker's Journal
2000, January, A lesson in sharpening, Woodshop News
1999, At the cutting edge, The Woodworker, Volume 103, issue 8
1999, Selling yourself, The Woodworker, Volume 103, issue 6
1999, August, Catching the rip with big sliders, Woodshop News
Date unknown, Twist and rout, The Woodworker, Volume 103, issue 4
Date Unknown, Desk Job, The Woodworker, Volume 103, issues, 3 and 4
1999, Routing dovetails, The Woodworker, Volume 103, issue 3
1998 Dovetails of the unexpected, The Woodworker, Volume 103, issue 2
1998, August, Double-twisted dovetail, Woodshop News