Home
Biography
Tables, Chairs
Cabinet Furniture
Beds, Built-ins, Other Work
Exhibitions, Galleries, News
Articles
Teaching and Student Work
Contact
Richard Jones Furniture
Heaven 17
Break-front built-in display and storage unit. Custom matched and laid up zebrano and hard maple veneers on plywood and MDF; glass shelving and mirrors; poplar cornice (crown) moulding. Sprayed Satin

pre-catalysed lacquer on maple parts and zebrano polished with satin alkyd varnish.



H 2,994 mm X D 610 mm

X L 4,152 mm
(H 117-3/4" X D 24" X W 163-1/2")

Called Heaven 17 because this piece went into a seventeenth floor Warwick Tower apartment in the 'Medical District' of Houston, Texas. Built, polished and test assembled in the workshop and delivered as disassembled 'flat-pack' parts to the location. It took just over two days for two of us to carry parts up to the apartment in a service lift and assemble the unit in its allocated space.

The piece is built in a room 4,152 mm long by 2440 mm wide, or approximately 9' 10" long X 8' wide. It was impossible to frame the piece when photographed from the front even with my widest angle lens; the only shots I could get that would show most of the piece were shot through the doorway into an adjoining bedroom.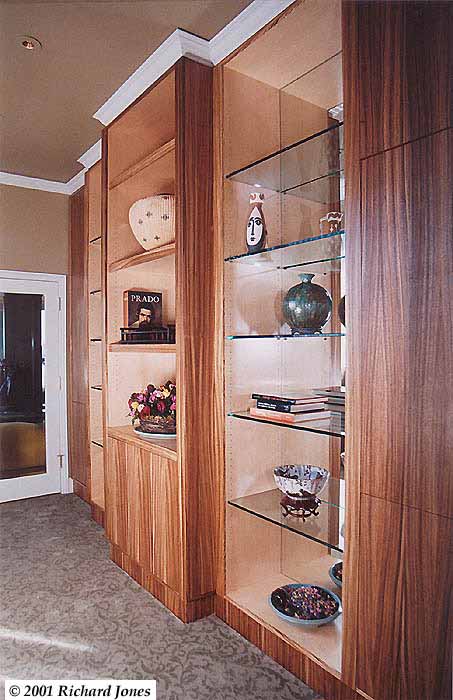 ---
Home
Biography
Tables, Chairs
Cabinet Furniture
Beds, Built-ins, Other Work
Exhibitions, Galleries, News
Articles
Teaching and Student Work
Contact