Home
Biography
Tables, Chairs
Cabinet Furniture
Beds, Built-ins, Other Work
Exhibitions, Galleries, News
Articles
Teaching and Student Work
Contact
Richard Jones Furniture

Omega Hall/Console Table


Console or Hall table in solid American cherry, 2.5 mm thick American cherry constructional veneers and varnish.
H 850 mm X D 355 mm X W 1000 mm (H 33-1/2" X D, 14" X W, 39-3/8")

The drivers for this design were twofold:

Firstly, I had available a small amount of spectacularly wild grained American cherry: this was ideal for a visually stimulating table top encouraging the eye to explore the curls and reverses in the grain pattern along with the variegated dark rich colours.
Secondly, I have long had a fondness for the geometric forms used in the Art Deco period. The clean lines these forms imparted on the artefacts created, e.g. the buildings, furniture, ceramics, silverware, lighting, etc I have always found to be visually stimulating. In this case, to support the top, and what better than the circle and the ellipse where their arcs and sweeps can reflect the swirls, eddies and curling grain seen in the top itself?
A description of some of the construction processes is at this link.
---
---
Below, a scan of an original conceptual presentation drawing.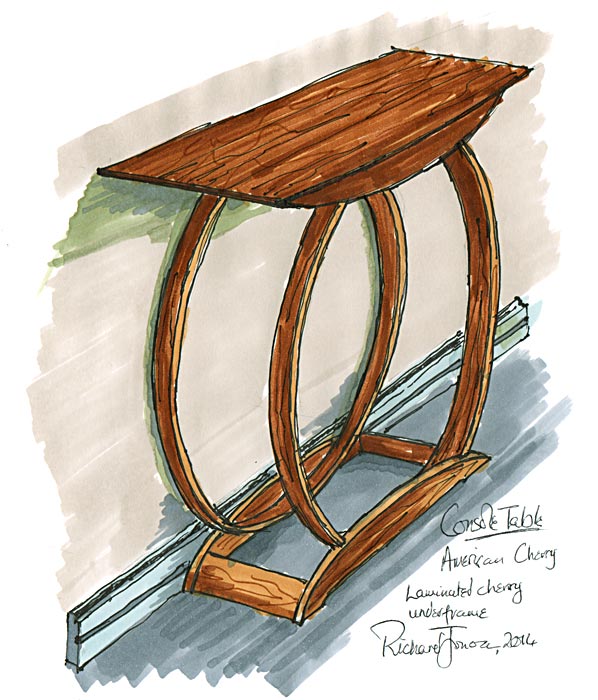 An alternative concept drawing generated using digital 3D drafting.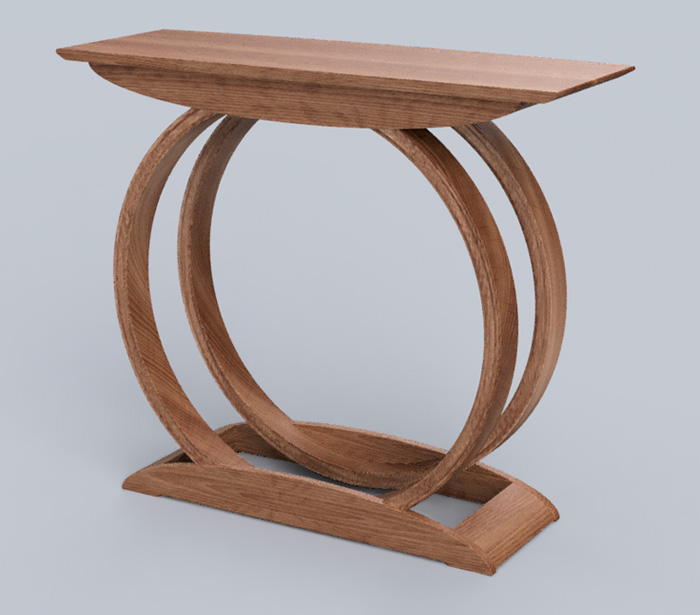 A description of some of the construction processes is at
this link.